S
ix poems by Francesca Pellegrino, translated from the Italian by Adria Bernardi.
Francesca Pellegrino, by profession and training, is a geometra, which could be described as something similar to engineer-architect-and site foreman, not exactly one of these, but one whose work corresponds with the work of each, a designer-constructor of buildings and go-between to the real world of permits and codes — in her case with a specialization of roadways and bridges.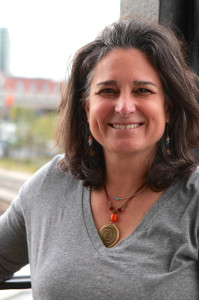 The velocity of these poems, from her collection, Chernobylove—il giorno dopo il vento (The Day After the Wind) divert the eye and the mind from a kind of mathematical logic with which they are constructed; it's the logic of a poet who is always unconsciously measuring spatial relationships in a kind of rigorous echoing of that evaporates when you try to apply a formula. Her poems follow the course of a glamorous heyday of love-and-prosperity to the train-wreck of Italy's economic collapse and the rupturing of institutions after the big party: "The principle partner / was seen on a tropical island / sun always / wearing a suit / made with my hide. Completely hand stitched."  ("My bank is different")  These poems also represent particular poetic inheritances: the lyric poet engaged in the searing, relentless, self-examination and the exploration of Bitter-Love becoming something else.  In addition to Chernobylove—il giorno dopo il vento (Kimerik 2010), Francesca Pellegrino has published Dimentico sempre di dare l'acqua ai sogni (Kimerik 2009), Niente di personale (Samizdat 2009); and a chapbook, L'Enunciato (Libraria Padovana 2008).  Francesca Pellegrino is a coordinator of the literary magazine LibrAria.  These poems appear in Chernobylove—The Day After the Wind Selected Poems 2008-2010 Selected, Edited, and Translated by Adria Bernardi (Chelsea Editions).  Born in 1974, Pellegrino lives in Taranto.
– Adria Bernardi