Four poems by José Alfredo Escobar Martínez, translated by Wendy Call.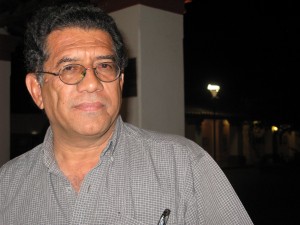 I first discovered the work of indigenous Zapotec poet José Alfredo Escobar Martínez in a Mexico City literary journal. I had lived for several years in the region he calls home, southern Mexico's Isthmus of Tehuantepec, but had not encountered his poetry. In a special 2004 issue of Generación featuring more than a dozen Isthmus Zapotec writers, I found a single poem by Escobar Martínez. That poem flew off the page and followed me; it became the first poem I translated.
The Zapotecs have long been some of Mexico's most celebrated writers, perhaps because their language was the first in the Americas to be written down. (The Maya probably got the idea of carving glyphs on stones from the Zapotecs.) Some anthropologists argue that the Zapotecs invented a complex iconography, not a complete writing system. Whatever it was, it arose about 2,500 years ago and endured until 800 CE. Linguists and archeologists are still trying to rediscover the mysteries of those glyphs, but Zapotec literary culture lives on, rendered in a transliterated Latinate script.
Four years after Escobar Martínez's single poem in Generación entranced me, I finally made contact with the poet via e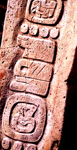 mail. Three years after that, we met in person for the first time, in his hometown of Espinal. Before that meeting, José Alfredo sent me a new cycle of poems, called Ripapa. Escobar Martínez writes in Spanish, including Zapotec words in his work. He explains the Zapotec title, Ripapa, as "que vuela, se agita, late." In Mexican Spanish, as spoken on the Isthmus of Tehuantepec, latir does not just mean "to beat" – as a heart or a pair of wings does, but also to have a hunch or a feeling about something. A sort of truth pulsing through one's veins.
Translation is all about having hunches. Feelings about things. Just as I'd had about Escobar Martínez's poetry from that first poem I saw on the pages of Generación.
His hometown, Espinal, is not a coastal village, but the image of the sea recurs in his poems. Only 120 miles separate the Pacific and Atlantic Oceans at the Mexican isthmus. This quirk of geography has impacted the region's history and culture since long before the conquest. As with many Zapotec writers and artists, the relationship between the natural environment and the human psyche is paramount in Escobar Martínez's work. In Zapotec cosmology, there is strong distinctions between the spheres of wild and tame. Human beings exist between the spheres of wild and tame, constantly feeling the tension between them
—Wendy Call