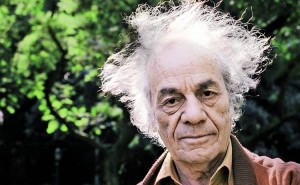 Physicist, mathematician, artist, folk dancer, and (anti)poet Nicanor Parra turns 100 years old today. That he's living to celebrate his own centennial could be a detail from one of his magnificently wry, aphoristic, self-mythologizing antipoems, which he has long characterized as a type of literary material analogous to antimatter. In her translator's introduction to Antipoems: How to Look Better and Feel Great (New Directions, 2004) Liz Werner writes that "…antipoetry mirrors poetry, not as its adversary but as its perfect complement…it is as opposite, complete, and interdependent as the shape left behind in the fabric where the garment has been cut out."
Parra has been cutting vivid shapes from the fabric of Latin American poetry and poetics since 1937, when his first book, Cancionero sin Nombre, appeared (Pablo Neruda's book responding to the Spanish Civil War, España en el Corazón, appeared a year later). He went on to study physics and cosmology at Brown and Oxford, and teach those subjects at universities in Chile. Parra's deceptively plain, deadpan voice has long confronted the various status quos of pop culture, literary canons, academia and politics. Having lived and written through the 17-year U.S.-backed Pinochet dictatorship, Parra has penned postcard-sized lyrics and drawings responding to situations as diverse in time and space as the U.S.'s embargo on Cuba and the war in Iraq. Throughout all his work runs a compassionate entreaty to consider poetry as a means for rethinking the world. "A poet is not true to his word/If he doesn't change the names of things," he writes in "Changes of Name" (trans. W.S. Merwin, in Poems and Antipoems, New Directions, 1967).
To celebrate Parra's birthday, Chilean press Ediciones Universidad Diego Portales is releasing a long-lost long poem by Parra, titled Temporal. Written in 1987, the poem was lost by Parra in the chaos of the end of the Pinochet regime. However, Parra's secretary, Adán Mendez, recently discovered cassette tapes of Parra in conversation with critic Rene de la Costa in which he reads the entire piece aloud. Mendez transcribed the poem from audio. The unlikely survival of a great poem in the body of a now-obsolete technology seems perfectly appropriate to Parra's style.
Saludos a todos– "hi to everyone"–is the ninth and final "note" of Parra's "Notes on the Lessons of Antipoetry," translated by Liz Werner. Issued from the position of a theoretical physicist, rigorous social thinker, and poet, this greeting reads as something that could be inscribed on the Higgs boson particle: a beautifully purposeless joke at the center of the world's great mystery. At 100, Parra is still laughing.