Two poems by Raoul Ponchon translated by Mark Lager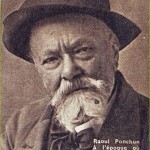 "Then [Ponchon] went alone, along the waterfront, pondering…he stopped at booksellers' boxes…then the Boulevard Saint-Michel…where he fashioned his absinthe…he returned home to the Hotel des Grands Hommes, near the Sorbonne. He pulled out of an old trunk a green coat of an old-fashioned cut, too big for him, and whose embroideries were tarnished…donned an old gardener's hat…all night he drank, reading the manuscripts of his unpublished works, which so few people know. They contain masterpieces…"
—Guillame Apollinaire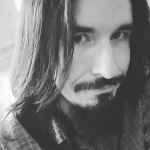 Fleur de Péché
by Raoul Ponchon
Comment, c'est encore toi, chiffon?         
Petite gringalette                
Grosse comme un quart de siphon,    
Ou deux liards de galette!          
Pour faire un corps comme le tien,                  
Statuette fragile,         
La recette est commode: rien             
Fournit d'abord l'argile;        
A force de pétrir ce rien,           
On obtient quelque chose:                          
Je ne distingue pas très bien,          
Mais cela paraît rose;             
On le barbouille de printemps,              
De champagne qui mousse,                         
De fanfreluche, on bat longtemps,                      
Et c'est là ta frimousse.                
O fleur qu'un souffle peut former,         
Qu'une risette éclaire,                  
Tu peux, à défaut d'art d'aimer,            
Avoir le don de plaire !     
Peach Blossom
by Raoul Ponchon
Why, it's you again pretty young woman?
little slender lady
big as a quarter of a pipe
or two pennies of pancakes!
To make a body like yours                  
delicate statuette
the recipe is a tall order: nothing
rendered in clay
Has the strength to shape this nothing,
you obtained something:         
I can't distinguish very well
but it seems pink
You a painting of spring
of foaming champagne
of fancy frills you bat a long time
and it's your sweet little face
O flower a breath may form
a child's smile illuminates
you have no lack of art of love
to possess the gift to please!
translated from French by
Mark Lager
more>>
Un vieillard râlait sur sa couche          
Souffrant tous les maux d'ici-bas;  
Déjà bleuissaient sur sa bouche   
Les violettes du trépas.    
Cependant, d'aurore en aurore,   
Trahi par le cruel destin,      
Pour souffrir davantage encore    
Il s'éveillait chaque matin.     
"O mort! Abrège mon martyre,"        
– Criait l'infortuné vieillard. —       
Il ne t'importe que j'expire     
Un peu plus tôt, un peu plus tard?    
"Je n'ai vécu que trop d'années,       
Et j'aspire à l'éternel soir;     
Car dans mes prunelles fanées       
Le Monde se reflète en noir.        
"Je n'attends plus rien de la Vie.       
Compte, au lieu de me l'acquérir,               
A la Jeunesse inassouvie             
Le temps qu'il me reste à courir."        
Et voilà que soudain, blafarde,         
Sous son masque de carnaval,        
Il vit l'effroyable camarde,     
Debout sur son seuil, à cheval!      
"Enfin! dit-il. Que tu m'es bonne,         
Toi, qui si longtemps me leurras!"       
Et tout ainsi qu'à la Madone,      
Il lui tendit ses maigres bras.     
Mais elle éperonna sa bête,    
Et continua son chemin,       
Sans seulement tourner la tête   
Vers ce vieillard en parchemin.     
Plus loin, au milieu des prairies,              
Deux amants, ceux-là bien vivants,                        
Couraient dans les herbes fleuries,    
Vous eussiez dit de deux enfants.     
Ils ne connaissaient de la Vie,        
Les pauvres petits! que l'Amour;     
Et leur âme était asservie      
L'une à l'autre, sans nul retour.   
Ils allaient, joyeux, par la plaine,         
Souriant de leurs yeux d'Avril;       
Le vent retenait son haleine        
Pour ne troubler point leur babil.         
Et voici que la Mort affreuse              
Rageusement fondit sur eux,          
Et d'un geste prit l'amoureuse                  
Dans les bras de son amoureux.
Old man throat rattling on his bed
suffering all the ills here below
already turning blue at the mouth
violets of death
Dawn after dawn
betrayed by cruel destiny
to suffer further anew
he awoke every morning
O death! cut short my martyrdom
cried the unfortunate old man
does it matter to you
if I die a little earlier, a little later?
I've lived too many years
and I long for the eternal night
for in my faded pupils
the world is reflected in black
I expect nothing of life
account instead of acquiring me
a youth unsatisfied
the rest of my time to run
And now suddenly pale
under his carnival mask
he saw the frightful snub nose
standing at his doorstep on horseback!
At last! he said. You're good to me
you who lured me for so long
and so like the Madonna
he held out his thin arms
But he spurred his beast
and continued on his path
without even turning his head
towards this old parchment
Farther in the meadows
two lovers living well             
running in the flowering herbs
you would have said two children
They did not know life
poor children! what love
and their soul was enslaved
one to the other with no return
Joyously going through open country
smiling with their April eyes
the wind holding its breath
not to ruffle their babble
And now dreadful death
violently descended upon them
and a gesture took the lover
in the arms of her sweetheart
translated from French by
Mark Lager
more>>