Three poems by Pilar Fraile Amador, translated from the Spanish by Lizzie Davis.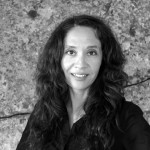 Pilar Fraile Amador is one of the most innovative of the generation of poets to come of age in post-Franco Spain. She writes in a voice beyond the constraints of self-isolating, institutionalized Spanish poetry, creating work that is non-linear, multi-vocal, and disjunctive. Poems from her collection Larva & Hedge move with stark grace and invite the reader to enter into an imaginative coexistence, a world at once surreal and imbued with a sense of déja vu. Within this unearthly province, poet and reader alike must consider the play between the intimate and the collective, the past and the present, the human and the animal.
Larva, the section in which the following poems appear, explores an undercurrent of unnoticed correspondence that exists between human beings, a wellspring of the collective subconscious. Here, individual and communal memories intermix and alter one another, and the living are able to communicate with objects and the dead. Inherited memories both enable and limit a speaker struggling to articulate her difference.
Fraile Amador investigates the destruction of the name as one means to strip selfhood from context. Names, these poems posit, allow us to recognize and to be recognized but can just as easily function as cages: they distance us from all within us that cannot be articulated. In Larva, the name–bestowed by mother and father, a bridge between two halves–is set on fire. The first lines of the volume show that this act is simultaneously generative and destructive: "I make tinder of my name / and wait for the seed."
–Lizzie Davis