Three poems by Pilar Fraile Amador, translated from the Spanish by Lizzie Davis.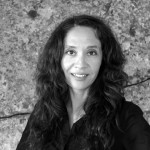 Pilar Fraile Amador is one of the most innovative of the generation of poets to come of age in post-Franco Spain. She writes in a voice beyond the constraints of self-isolating, institutionalized Spanish poetry, creating work that is non-linear, multi-vocal, and disjunctive. Poems from her collection Larva & Hedge move with stark grace and invite the reader to enter into an imaginative coexistence, a world at once surreal and imbued with a sense of déja vu. Within this unearthly province, poet and reader alike must consider the play between the intimate and the collective, the past and the present, the human and the animal.
Larva, the section in which the following poems appear, explores an undercurrent of unnoticed correspondence that exists between human beings, a wellspring of the collective subconscious. Here, individual and communal memories intermix and alter one another, and the living are able to communicate with objects and the dead. Inherited memories both enable and limit a speaker struggling to articulate her difference.
Fraile Amador investigates the destruction of the name as one means to strip selfhood from context. Names, these poems posit, allow us to recognize and to be recognized but can just as easily function as cages: they distance us from all within us that cannot be articulated. In Larva, the name–bestowed by mother and father, a bridge between two halves–is set on fire. The first lines of the volume show that this act is simultaneously generative and destructive: "I make tinder of my name / and wait for the seed."
–Lizzie Davis
Cieno
by Pilar Fraile Amador
I.
debajo de los objetos hundidos
en el blanco busco barro
y hallo mi costumbre
*
como luz viene el tacto
hondo
hueco donde viven las cosas
ruptura
hondas también
las señales salida
peligro prohibido
despierto y sigue allí
misma sombra
bañándome
la frente
*
bajo la lluvia
ácida humedad
hubo cuerpos
amados velas
encendidas
arañé mi certeza
como canto fue
el fango para el
tronco perdido
II.
Digo boca
ojo anatomía.
Ángeles que entran en la casa y ya estamos
volviendo. Para qué de nuevo mi costumbre.
Digo boca
ojo retroceso.
*
Ven. Pon tu llaga en mi mano.
Quizá haya venido yo
para curarte. Observo tu
silueta en el muro
alcanzo tu pasado y algo
se rompe detrás de lo que veo.
*
Despierta tu voz
y su ceniza. Te
recuerdo
extensor frágil
mientras nombras el golpe.
¿Qué signo usaré para tu rostro?
Mud
by Pilar Fraile Amador
I.
under sunken objects
in the void
i search for clay
and find only my rituals
*
like light comes the touch
to deep
crater where artifacts live
a rift
deep as
the chanting
danger
forbidden
i wake up
it's still there
the same shadow
bathing my
forehead
*
in the rain
sour dampness
there were bodies
beloveds candles
lit up
i clawed at my certainty
like the song the
mud sings for
the fallen trunk
I say mouth
eye anatomy.
Spirits have settled inside the house and
still we're coming back. To act out the ritual again.
I say mouth
eye relapse.
*
Come closer. Show me your wound.
Maybe I've come
to cure you. I watch your
silhouette on the wall I
outdistance your past and
something
breaks
just out of sight.
*
Your voice comes to
and its ashes. I remember
you
vast fragile
while you point to the break.
What symbol will I use for your face?
translated from Spanish by
Lizzie Davis
more>>